This article was written by Rick Lifferth, Marty Hamilton, and Shauna Hatch
Appraising and Temporary Flexibilities
As an appraiser, are you confident that you're conforming to the temporary flexibilities allowed by Fannie Mae? If you're not confident that your appraisal files are conforming, could you use some help getting your desktop and drive-by appraisals up to par?
Fannie Mae's temporary loosening of appraisal requirements makes it necessary for appraisers to quickly become familiar with the new "temporary flexibilities" rules. In our previous blog post, "Appraising During COVID-19," we outlined the "temporary flexibilities" for appraisals authorized by Fannie Mae as well as provided some tips on accurately filling out the 1004MC form.
With the new guidelines, it's important that you have the right tools. We have the tools that you need, so let's get to it!
Let's Get To It!
Temporary Inspection Flexibilities
The temporary loosening of property inspection requirements by Fannie Mae, Freddie Mac, VA, and HUD will require some work-flow modifications for appraisers. If you have not heard about the Desktop or Drive-by options, click here.
 When an appraiser receives a request for a Desktop or Drive-by appraisal, the first question that comes to mind is, "How much information about the subject property is available for me to use?" Driving by the property is easy but getting the interior data is more difficult. 
Appraisers are getting creative with their approaches. The best option is to interview the occupant and ask them to send you photos. There are several mobile apps which have been introduced recently which will help you with this process. OwnerInsight is an app which appraiser Jared Preisler uses-give it a try! 
DataMaster Property Search
DataMaster's new Property Search function allows you to find existing properties in the United States. It allows you to search by
Tax ID (APN)
Property Address
MLS Number
Whichever of those three options you use, DataMaster will simultaneously search both public records and the MLS with a single push of the button.
Public Records: Our public records data provides addresses, legal descriptions, Tax ID (APN) numbers and associated data. We also provide physical characteristics of the property such as Lot Size, Square Footage, Year Built, and other data.
In select counties across the country, we provide property Plat Maps (see below). We also gather historical information about the ownership of the property. All of this data will auto populate directly into the appraisal forms.
MLS Search: The MLS search happens simultaneously. If the property has been listed in the past or is currently listed in the MLS, DataMaster will find it. If it is a recent listing or sale, it usually includes photos. Most MLS's truncate the photos after about a year, but the data is usually still there. For example, my wife and I sold our home in 2012. The data is still in the MLS but the photos are gone.
Google and Bing maps and street photos: DataMaster provides access to both Google and Bing maps as well as street photos for every property searched (see below).
Recycle Your Own Appraisal Data with CompTracker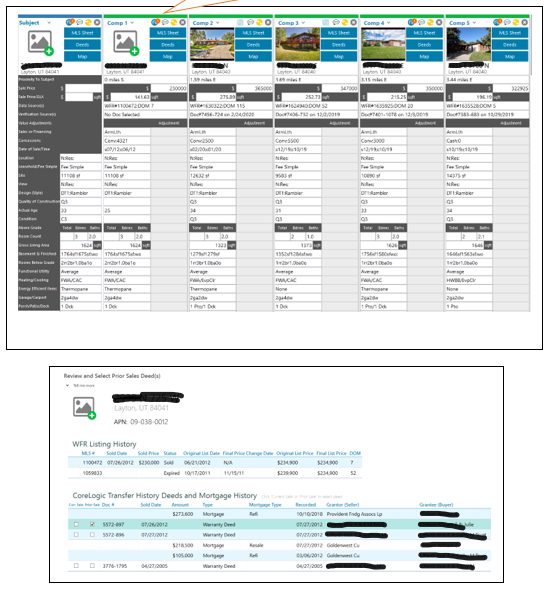 Each appraisal you have completed in the past contains a lot of information about the physical characteristics of the subject and comp homes. CompTracker is a new feature that allows you to save that data and recycle it into new reports. With CompTracker you can electronically read your files into the database so that you can reuse it on every appraisal.
For example, if you did an appraisal on a home four years ago and you are currently using that home as a comp because it recently resold, you can use your previously measured GLA on the home (assuming it has not had an addition added to the back of the home).
A seasoned appraiser once told me that his personal appraisal files were worth $1 million. My response was, "Great, but the only way you can leverage that data is to open each file and look at each report." That is simply not an efficient process!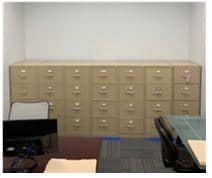 You can load as many previously appraised properties as you want. If you want to go back as far as five years or more, you can.
CompTracker is part of your digital work file and personal database. And it doesn't matter which form software you use;, we work with all of them!
Trusted Peers in the Office
Another helpful feature in CompTracker is the option for you to share selected property info with trusted peers. Both parties must agree in order to use our unique two-way sharing model.
Another great reason to use CompTracker is that you know who you share with. There is no anonymous data in CompTracker. 
We built CompTracker with USPAP compliance in mind and the data you can share depends on your relationship with your trusted peers. If your trusted peers are in the same office, you can share property data including assignment results. If you work in separate offices, you can only share physical characteristics. 
Deeds
Can you imagine how convenient would it be to see property deeds in your software? Good news! DataMaster provides deeds!
When you select a property (either as a subject or a comparable), DataMaster displays the Listing History from your MLS as well as the deeds from public records. In the Listing History, you can see the Cumulative Days on Market and List Price changes. You can also see the three-year transfer history for the property.
You can save time with the deeds for each comparable. We'll give them to you before you get to the sales grid. You can review the deeds and select the current and prior sales or you can skip them and get back to them later. With this option, you can weed out comparables that don't fit your assignment. For example, there might be a comparable property that has multiple transfers within a year, indicating that it's a flipped property. Based on this information, you can get rid of that comparable and save the ten minutes you would have spent cleaning it.
Photos
For each comparable property in the sales grid, DataMaster quickly gathers all the MLS photos. We give you the interior and exterior photos to help you make your quality and condition decisions. A bonus, you can select your quality and condition rating within DataMaster! 
Another great thing about having the MLS photos is that they become part of your digital workfile. If your MLS removes the photos from their database, you'll still have access to the photos in your workfile. You'll be able to defend your decisions with this back-up, even several years after the report was filed!
Maps
With DataMaster Pro you get the Google Street View and Bing Satellite views for each property. You can review the location and enter it in DataMaster. With the satellite view, you might see something you couldn't see from ground-level, like a busy cross street, railroad tracks, or power lines.
Keep in mind that your location and view designations will pass from DataMaster into your form vendor.
Plat Maps
This is not the time to drive to your county records office to get your plat maps (is there ever a convenient time for the extra driving?). DataMaster gives you plats for selected areas. Our plat service can save you the time it takes to find plat maps or even subscriptions to other plat services. With plat maps, DataMaster is your one stop shop for property data.
Digital Workfiles
One of the many great things for appraisers that DataMaster provides, is the ability for you to select the data you'll include in your final reports. You can choose a selection of the comparables you reviewed for your reports. If you reviewed ten comparables you don't have to include them all in your reports, yet all ten comparables will be saved in your DataMaster files.
You can use DataMaster to show your appraisal work. You can show a reviewer or underwriter that you reviewed a property and that based on your professional opinion, that property didn't meet the needs of the assignment.
Graphs
Identify the trends in the market and support your market conditions data with graphs! DataMaster Pro gives you the choice of twenty-eight graphs that illustrate and support your conclusions! These graphs are simple to use and very eye-catching.
Customization
Here's a great feature that many appraisers love! With DataMaster your forms are customizable! You can customizie site area, view, quality of construction, garage/carport, and many more details in DataMaster! Need help? Call customer support for free help and training at 888.362.9222.
…But Wait, There's More!
If you'd like a refresher of the lender letter sent out by Fannie Mae, follow this link. Here is the link to a valuable resource, Service Link's paper, "Reporting Market Conditions in a Residential Appraisal Report," and the link to a resource for analyzing market trends, The Appraisal Institute's "Guide Note Ten."
DataMaster provides you with so many more helpful features! In fact, in May we'll be launching a new feature, Standard Addendum, that you'll love! If you'd like to know more, go to datamasterusa.com or call us at 888.362.9222.
Conclusion
Feeling more confident in your ability to adapt to the temporary changes due to the impact of COVID-19? As you learn more about DataMaster, you'll come to realize that this is a tool that smart, successful appraisers use, value, and share with their appraiser friends! You'll come to realize that this is a tool that will give you more time and help you create defensible files now and in the future!
Happy appraising!